Rescue Diver
The Cost: 369.00
Check out our Event Calendar for the next course dates, or Signup Online Now!
The PADI Rescue Diver will expand your knowledge and experience beyond purely recreational level because you will learn to look beyond yourself and consider the safety and well-being of other divers. Although this course is serious, it is an enjoyable way to build your confidence.
What do I need to start?
PADI Advanced Open Water Diver or PADI Junior Advanced Open Water Diver certification (or qualifying certification from another organization)
Minimum age: 15 years old (12 for PADI Junior Rescue Diver)
Successful completion of a sanctioned CPR program by completion of the course. We will offer the First Responder course in conjunction with Rescue.
What will I do?
Rescue Diver training will prepare you to prevent problems and, if necessary, manage dive emergencies. During the five open water sessions, you'll cover:
Self-rescue and diver stress
Dive first aid
Emergency management and equipment
Swimming and non-swimming assists
Panicked diver response
Underwater problems
Missing diver procedures
Surfacing the unconscious diver
In water artificial respiration
Egress (exits)
First aid procedures for pressure related accidents
Dive accident scenarios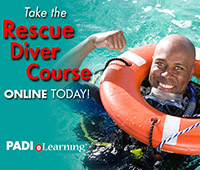 How long will it take?
1 weekend (Friday night, Saturday in water and Sunday for the Rescue Scenarios.
What will I need?
PADI Rescue Manual
Where can I go from here??
The PADI Rescue Diver certification is a prerequisite for all Professional level PADI courses, beginning with the PADI Divemaster certification.
Sing Up NOW!
Check out our events page to see when the next course is bing offered then contact us to sign up. Don't see this class listed, don't worry, contact us and we can set it up.
Don't want to wait? Take the academic portion right now with PADI's online eLearning courses. Learn more about eLearning or signup four courses on our eLearning page.