Lond Point Wreck Diving Trip
June 20 and July 5 2015
Dive to Antiquity and find Lake Erie's mysteries of lost ships from the past.
Dive Ships that Few Divers Have Seen
This is your opportunity to see great ship wrecks and enjoy diving that most other divers only wish they could do. See sunken ships from the 1850 through to 1900's all in pristine condition. Wrecks such as the Atlantic, the Crystal and many many more …
Because of the depth of the wrecks this trip is for Advanced divers only.
Trip Pricing
Only $130 CDN per diver
The Boat Holds 7 so book early!
** Transportation to the boat is not included, car pooling can be arranged.
Trip Details
We will depart from Turkey Point, a short boat ride to the lake side of Long Point Peninsula, a leisurely day of diving, and you will be home for supper.
Average depth of dives are between 70 and 120 feet.
Water temperature is refreshing.
If you are an Advanced Diver with good diving skills these wreck are yours.
You will need a small light to see the features of the wrecks.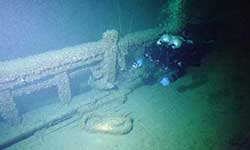 Book Your Spot Now!
Contact Cross Current Divers to booking information.