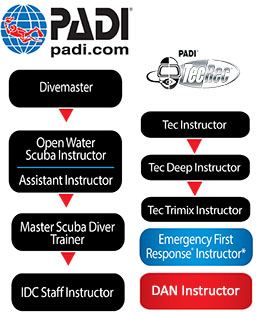 Why Go Pro? is a question which no one ever asks! Those who have entered onto the diving professional world all know the reasons why; Enjoy Outdoor Activities, Lifestyle, Opportunity to Teach Diving, The Love Of Diving, Self Improvement, A Passion To Care For The Environment are just a few of the reasons that these professionals will tell you.
Now all you have to do is ... Make the right choice ... take your IDC with us. Strive to be the best, take advantage of our superior program!
For full course details click on a course name to the left.