Dive the Galapagos Islands
November 29, 2015
The M/V Galapagos Sky cruises the Galapagos Islands in search of sea lions, penguins, schooling hammerhead sharks, turtles, stingrays, whale sharks and the magnificent mantas. Included in planned itineraries are visits to the very remote islands of Wolf and Darwin. The luxuriously constructed Galapagos Sky features all the amenities you have come to expect including nitrox fills, private en-suite facilities, spacious lounge areas, fine dining and more.
View the links below to get a great look at the boat, the crew, and the wild life you can expect to see on the dives.
Galapagos Sky Promo Video Part I
Galapagos Sky Promo Video Part II
Download the trip brochure.
Reserve your spot today, contact Cross Current Divers.
The Dive Boat
M/V GALAPAGOS SKY 120 ft x 23 ft Aluminum Monohull built for 16 Divers 7 Night Itinerary Includes: Airport transfers, 7 nights accommodations in Individual Stateroom with AC, Private En-suite head and shower, port light view, Breakfast cooked to order, Buffet Lunches, Gourmet Dinners served to you table, Fresh mid-morning and mid-afternoon snacks, complimentary soft beverages while on-board, Morning coffee service to your stateroom, nightly turn down service w/pillow mint, Bathrobes, 3 Land Excursions and 5.5 Diving Days up to 4 Dives per Day.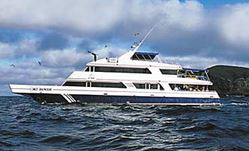 Trip Costs
Deluxe Stateroom $5295 USD
Master Stateroom $5495 USD

** Per person at double occupancy and subject to change.
Deposit: $1000 USD per person non-refundable.
Final Payment: June 29, 2015
Cancellation: Refer to specific terms and conditions.
Travel Insurance: Cancellation insurance and out of province medical insurance are available as an option.
Documentation: Passengers require a Canadian passport with 6 months validity from the date of return.
Additional flight Costs:
American Airlines Toronto to Quito or Guayaquil, approx. $1100 CDN
Aerogal Quito/Guayaquil to Galapagos approx.$500 USD
Additional Costs:
National Park Fee $100USD
Transit Card $10USD
Chamber Support Fee $35USD
Additional Hotel Costs:
A minimum of 2 nights stay will be required in Quito or Guayquil One night on arrival and one night on return. Approx. $165 USD, double occupancy.
Plan on Staying Longer?
Check out
Sacha Ladge
for additional tour options. Tours Include:
An Otavalo & Cayambe 3 Day Tour
Machu Pichu, Peru
Machu Pichu, Peru
Reserve Your Spot
Contact Cross Current Divers today!
Travel bookings made through SqubaHolidays



1-800-265-3447
105 Wharncliffe Rd. South, London, ON, N6J 2K2
TICO Reg. # 02471720